Dr Kym Diamantis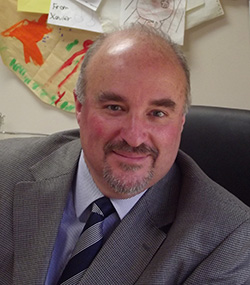 Dr Diamantis graduated from the University of Adelaide Medical School in 1985 and immediately commenced surgical training under the auspices of the Royal Australasian College of Surgeons. He became a fellow of the college graduating as an Ear, Nose & Throat Surgeon/Head & Neck Surgeon in 1991, and indeed, was ranked second in the country at his fellowship exam.
In 1992 Dr Diamantis worked as a senior registrar at the Queen Elizabeth Hospital, Woodville South Australia and followed this with a visiting fellowship with Dr Gaylon McCollough in Birmingham Alabama, USA. During his time with Dr McCollough, Dr Diamantis undertook advanced training in a number of aspects of facial plastic surgery and the rhinoplasty techniques imparted by Dr McCollough have contributed to his current closed rhinoplasty approach that leaves no facial scars on the patient whatsoever.
Upon commencing practice in 1993, Dr Diamantis established his areas of interest which included cosmetic and functional rhinoplasty, all aspects of sinonasal surgery, upper airway surgery for snoring and sleep apnoea, together with all aspects of general paediatric ENT care.
In 2006 the practice was expanded into the Northern Territory and continues to this day. Dr Diamantis undertakes a full range of ENT surgery at the Darwin Private Hospital but for a few more complex procedures he recommends that the surgery be undertaken in Adelaide where specialised facilities are available.
In 2010 he was honoured by the Adelaide Medical School for its 125th Anniversary celebrations by having his portrait drawn by a leading South Australian artist, and which was subsequently published to celebrate the medical school's milestone. The publication honoured some seventy to eighty South Australians who have worked in all fields of medicine and Dr Diamantis was the only Ear, Nose & Throat Surgeon to be awarded that honour.
At the time of publication, Dr Diamantis is state chairman of the Australian Society of Otolaryngology Head & Neck Surgery Society and councillor of the federal society. Away from the rigours of a busy surgical practice in two states, Dr Diamantis spends time with family and friends, is an avid follower of the Adelaide Crows and an enthusiast of all three types of State and International Cricket. Beyond this, he produces prize winning extra virgin olive oil from his southern Fleurieu Peninsula farm.
Wendy
Registered Nurse
Wendy trained at the Adelaide Children's Hospital, followed by High Dependency nursing at the Calvary Hospital. Wendy also worked in Aged Care at Resthaven, Malvern. With many years experience as an Ear, Nose & Throat Nurse in a private practice, Wendy has a wealth of experience and is a terrific addition to our Rooms.
Maddy
Practice Manager
Maddy began as a junior employee for Parkwynd ENT in 2008. In early 2009 Maddy took over the role as an Executive Assistant, and following maternity leave Maddy returned as the Practice Manager in 2018. Her responsibilities include planning, co-ordinating and supervising various elements within the practice. Such as, overseeing the daily operations of the practice, patient billing and hospital claims, processing the practice accounts, implementing work policies and other human resources duties. As well as managing patient records and filing systems, scheduling appointments and surgeries, typing correspondence and assisting with phone and email enquiries.
Maddy will be more than happy to discuss any of Dr Kym Diamantis' services, appointments and general enquiries. She can be contacted on 08 8223 2633 or maddy@diamantisent.com.au.
Sally Registered Nurse
Sally has worked for Parkwynd ENT for a number of years, both performing administration tasks and nursing in our Adelaide city practice. She is a Registered Nurse with considerable experience in emergency/recovery care, and is delighted to have returned to nursing and patient care responsibilities.
Tenille
Executive Assistant
Tenille began working at this practice as an Office Assistant in 2014 and has since been promoted to Executive Assistant. Her responsibilities include scheduling of appointments and surgeries, front desk reception and answering phone and email enquires. Other duties include liaising with hospital's and anaesthetists and managing the day to day running of the practice.
Tenille is available to assist with appointments and general enquiries via phone on 08 8223 2633 or email tenille@diamantisent.com.au.